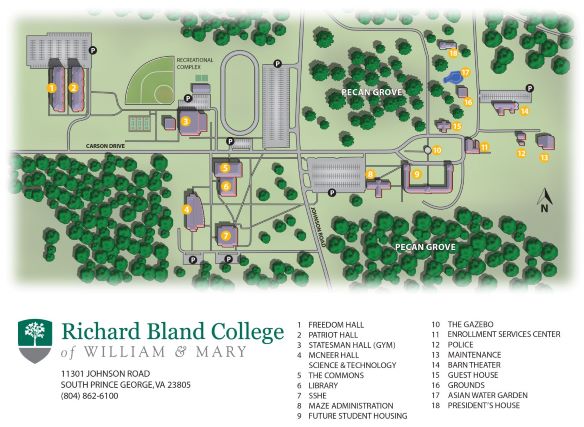 The Campus
The Richard Bland College campus consists of over 800 acres of land, 16 buildings totaling nearly 345,000 gross square feet. The East Campus in Prince George County is notable for its signature pecan grove and the historic, white-washed buildings that supported a dairy farm until the early 1900s, and later a state hospital. Today, in addition to the Asian Water Garden and Barn Theater, campus services and administration occupy the East Campus. The West Campus in Dinwiddie County is the center of student and academic life. In addition to the library and academic buildings, athletic and recreation facilities and residence halls are located on the West Campus.
West Campus
Academic Village
Social Science, Humanities & English Building (SSHE; formerly Ernst Hall)
First Floor:  The Provost and Office of Academics and Student Development, classrooms, faculty offices, auditorium
Second Floor: art studio, classrooms, lounge
James B. McNeer Hall – Science and Technology
First Floor: classrooms, labs, faculty offices
Second Floor: classrooms, laboratories, faculty offices
Third Floor: classrooms and labs
The Commons
Library, Student Success Center, Enrollment Services, Dining, and Bookstore
Student Village
Patriot Hall
Co-ed residential suites and Community Room
Freedom Hall
Office of Residence life (1st Floor), co-ed residential suites
Athletic Village
Statesman Hall
First Floor: Gymnasium, Statesmen Athletic Department offices.
Second Floor: Physical Education classrooms and faculty offices
Sports and Recreation
Nature Trail
Sand Volleyball Court
Tennis Courts
Softball field
Soccer/multi-purpose field
¼ mile Track
East Campus
Campus Services & Administration
Clarence Maze, Jr. Hall
Administrative Offices for Development, Communications, Finance and the Office of the President
Enrollment Services Center
Cashier's Office, Human Resources, Financial Aid, Records and Registration, Admissions
Commerce Hall (former Humanities and Social Sciences building)
Residential facility
Barn Theater
A vestige of the dairy farm that previously operated on the site, The Barn Theater is a multi-purpose facility that provides a unique backdrop for lectures, live performances, and events. Because of its versatility, abundant natural light and flexible, open space, the Barn Theater is a popular venue for retreats, workshops, conferences, weddings, and other sponsored events.
President's House
Prior to the establishment of Richard Bland College in 1960, the President's House was one of two farmhouses built by the Hatcher Seward Family, who operated a dairy and cattle farm in the early 1900s. The house is nestled amongst the College's pecan groves and Asian Water Garden. The two-story home was remodeled in the 1960s, and a distinct room for entertaining was added to the house in 1996. The room's large glass windows give presidential guests an expansive, breathtaking view of the Asian Water Garden. A fountain with a statue of Hebe, carrier of the Torch of Youth in Greek Mythology, a gazebo, and guest house are also present on the grounds.
Asian Water Garden
Initiated by former President Clarence Maze, Jr., in 1988, the College's Asian Water Garden was inspired by Claude Monet's Gardens in France. The garden was fully developed five years later in 1993 and is open to the public throughout the year. A quarter of the one-acre garden is underwater. There are two waterfalls, two Japanese- style bridges, a pier, a garden path, benches and a cupola. Lotus, Iris, Cattails, Clover, Papyrus, Plantain, and Thalia are just a few of the water plants. Shrubs, bog plants, and beds of Daylilies, Peonies, Black-Eyed Susans, Iris, and numerous others surround the pond. Pecan, Japanese Maples, Cherry, Maple, and Dogwood Trees encase the garden.
Hospitality House and Service and Maintenance Buildings